BG-E6 Canon Compatible Battery Grip for EOS 5D Mark II DSLR Camera
Canon BG-E6 Equivalent Battery Grip for EOS 5D Mark II Digital SLR Camera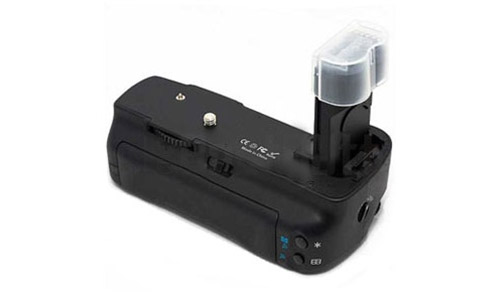 Canon BG-E6 / BGE6 Compatible Battery Grip is a powerful and versatile accessory for the Canon EOS 5D Mark II Digital SLR camera.
It takes upto two
LP-E6
rechargeable batteries or six AA batteries (alkaline, Ni-MH, lithium, or nickel-manganese).
It includes all the functions and features that the original Canon BG-E6 grip has, providing additional shutter release, main dial, AE lock/FE lock and AF point selection controls for easier vertical shooting.
1-Year Warranty!
---
Comments
Send us text message for immediate response.


(502) COLOR-LA
(502) 265-6752
$19.00

LP-E6 Fully Decoded Battery for Canon 5D 6D 7D 60D 70D
Fully Decoded LP-E6 Li-Ion Rechargeable Battery for Canon EOS 5D, 6D, 7D, 70D and 60D


$21.00

Universal Camera Bracket with Accessory Shoe
Metal built with plastic handle. Silver Color


$16.00

LC-E6 Canon Compatible Charger for LP-E6 Battery
Canon LC-E6 CBC-E6 Equivalent Charger for LP-E8 Digital Camera Battery


$31.00

Flash Bracket with 3 Accessory Shoes
Brand New, Limited Quantity


$8.00

Universal Wireless Remote Control for Canon, Nikon, Sony, Pentax Cameras
Wireless remote control for cameras and DSLRs still photo mode only.


$33.00

Light and Sound Video Bracket
Standard accessory shoe size bracket for video lights and microphone.