Dual Quick Charger for Sony NP-FW50 Batteries with LCD Display
Dual Channel Charger with LCD display for Quick Charging Two for Sony NP-FW50 Batteries Simultaneous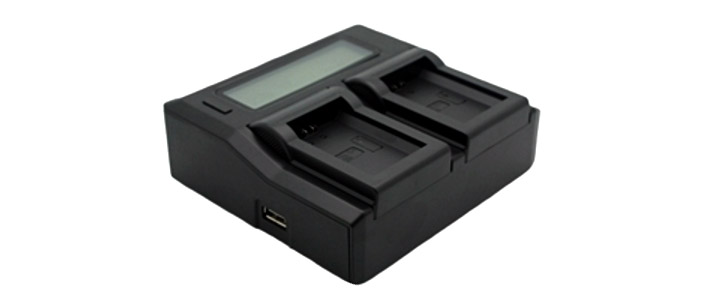 This dual channel quick charger is designed to work with Sony OEM and third-party NP-FW50 batteries. It charges up to two batteries at once with regular charge and quick charge option. The charger is compatible with various capacity / voltage batteries; its microchip automatically identifies the battery voltage and charges it accordingly to prevent overcharging. The LCD screen shows charging status for each battery separately. The NP-FW50 battery charger is equipped with a USB port for charging other USB-based devices such as smartphones or cameras. The product comes with a free car adapter and a power cord. The charger is fully compatible with the following Sony cameras:


Sony Alpha NEX-F3, Sony NEX-F3

Sony Alpha NEX-6, Sony NEX-6

Sony Alpha NEX-5R, Sony NEX-5R

Sony Alpha NEX-5T, Sony NEX-5T

Sony Alpha NEX-3, Sony NEX3

Sony Alpha NEX-3N, Sony NEX3N, Sony NEX-3N

Sony Alpha NEX-5, Sony NEX5

Sony Alpha NEX-5N, Sony NEX5N

Sony Alpha NEX-C3, Sony NEXC3

Sony Alpha NEX-C5, Sony NEXC5

Sony Alpha NEX-7, Sony NEX7

Sony Alpha SLT-A33, SLTA33

Sony Alpha SLT-A37, SLTA37

Sony Alpha SLT-A55, SLTA55

Sony Alpha A3000, Sony A3000

Sony Alpha A3500, Sony A3500

Sony Alpha A5000, Sony A5000

Sony Alpha A5100, Sony A5100

Sony Alpha A6000, Sony A6000

Sony ?7, Sony Alpha 7, Sony A7

Sony ?7 II, Sony Alpha 7 II, Sony A7II

Sony ?7R, Sony Alpha 7R, Sony A7R

Sony ?7R II, Sony Alpha 7R II, Sony A7RII

Sony ?7S, Sony Alpha 7S, Sony A7S

Sony ?7S II, Sony Alpha 7S II, Sony A7SII

Sony Cybershot DSC-RX10, DSCRX10, RX10

Sony Cybershot DSC-RX10 II, DSCRX10II, RX10 II

Sony ILCE-QX1, QX1
and more models.
Features

100% compatible with original manufacturer equipment and batteries

Microprocessor control charge

Overcharge protection

LCD screen displays each battery's charging status

USB port for smartphone charging

Universal Input Voltage: 100v-240v

Charges: Sony NP-FW50 batteries

1-year warranty
---
Comments
Send us text message for immediate response.


(502) COLOR-LA
(502) 265-6752
$16.00

Charger kit for Sony NP-FW50 Digital Camera Battery
New high-quality "smart" battery charger set including both wall charger and auto cigarette lighter


$16.00

NP-FW50 Sony Compatible W-Series Li-Ion Rechargeable Battery
New Sony NP-FW50 InfoLithium Equivalent Standard Li-Ion Rechargeable Battery for Sony Alpha Digital