Dual Charger for Canon LP-E6 with LCD Display Quick Charging
Dual Channel Charger with LCD display for Quick Charging Two Batteries Simultaneously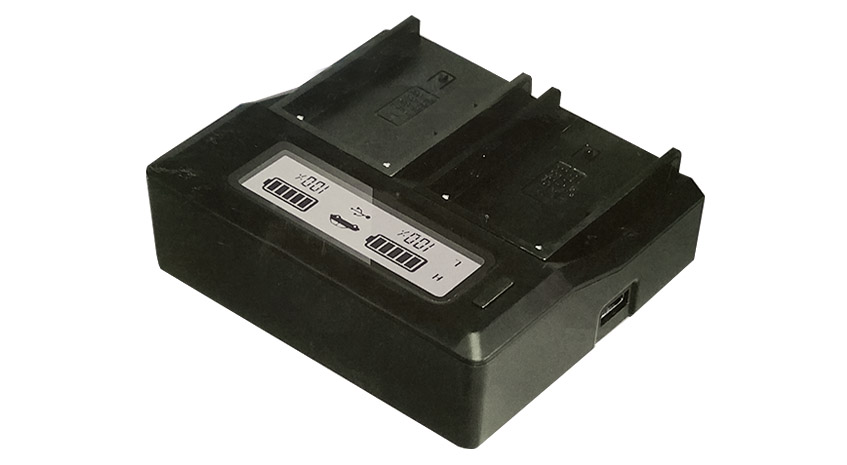 Our dual-channel charger powers up to two batteries at once and is designed to work with Canon OEM and third-party LP-E6 / LP-E6N batteries. Quick charging mode can charge the batteries in just 3 hours. The charger is compatible with various capacity / voltage batteries; its microchip automatically identifies the battery voltage and charges it accordingly to prevent overcharging. The LCD screen shows charging status for each battery separately. The charger is equipped with a USB port for charging other USB-based devices such as smartphones or cameras. The product comes with a free car adapter and power cord and is fully compatible with the following Canon cameras:

Canon EOS 5D Mark II

Canon EOS 5D Mark III

Canon EOS 5DS

Canon EOS 5DS R

Canon EOS 6D, Canon 6D

Canon EOS 7D

Canon EOS 7D Mark II

Canon EOS 60D

Canon EOS 60Da

Canon EOS 70D

Canon EOS 80D

Canon XC10
and more models.
Features

100% compatible with original manufacturer equipments and batteries

Microprocessor control charge

Overcharge protection

LCD shows charging status

Universal Input Voltage: AC 100v-240v / DC 12-24V 3000mAh MAX

Single Output Current: 1000mA, 1500mA MAX

Double Output Current: 500mA, 800mA MAX

USB Output: 5V 2100mAh

CE certified and UL listed

2-year warranty
Trick out the Dual Channel Quick Charger
Find out how to charge two types of batteries at the same time with our Dual Channel Quick Charger.

Trick out the Dual Channel Quick Charger - LA Color Blog
---
Comments
Send us text message for immediate response.


(502) COLOR-LA
(502) 265-6752
$19.00

LP-E6 Fully Decoded Battery for Canon 5D 6D 7D 60D 70D
Fully Decoded LP-E6 Li-Ion Rechargeable Battery for Canon EOS 5D, 6D, 7D, 70D and 60D


$16.00

Canon Compatible LC-E12 Charger for LP-E12 Battery
Canon Compatible LC-E12 Smart Charger with wall plug and auto cigarette lighter adapter.