Falcon Media Pro BD-R 4X Glossy Inkjet Water Resistant Hub Printable (25-Pack)
Falcon Media Pro BD-R, 4X, Glossy Inkjet/ Water Resistant Hub Printable (25-Pack)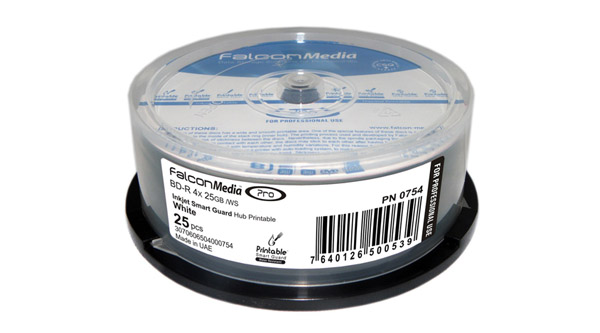 Falcon Media Smart Guard is a superior water resistant inkjet glossy surface for those looking for an ultra professional image. The Smart Guard layer offers a superb bright photographic finish, excellent ink absorption, and is resistant to smudges and bleed due to moisture and humidity. The Smart Guard layer yields exceptional print results with the major inkjet based publishing systems.
Falcon Media Smart Guard media is an optimized professional media which meets the highest industry standards ensuring consistent quality, surface uniformity, flawless printing and handling on automated duplication systems.
IMPORTANT NOTE
Falcon has announced they are discontinuing their blank BluRay production line. Once we sold out all the inventory in hand, we will no longer carry any Falcon brand blank BluRay disc.
For more information, pleaase read our blog at
Falcon Media to Discontinue Blank BluRay Media Production
---
Comments
Send us text message for immediate response.


(502) COLOR-LA
(502) 265-6752
$39.00

JVC / Taiyo Yuden DVD-R 16X White Inkjet Hub Watershield (50-Pack)
VC / Taiyo Yuden DVD-R, 16X, Watershield, White Inkjet Hub Printable, Cake Box of 50


$32.00

Falcon 4.7GB 16X DVD Smart Guard White Inkjet Glossy Water Resistant (50 Pack)
Falcon 4.7GB 16X DVD White Inkjet Glossy Water Resistant with Smart Guard