Sony Compatible NP-QM71D InfoLithium M Series Li-Ion Battery
Sony Compatible NP-QM71D InfoLithium M Series Li-Ion Rechargeable Camcorder Battery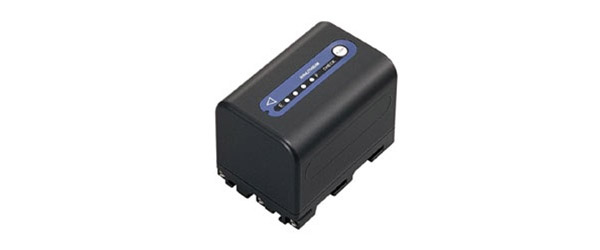 New 100% Sony compatible Compatible Li-Ion Rechargeable Battery. Guaranteed to meet or exceed OEM specifications. Know how much juice is left in your battery with the 1-touch display that gives you instant power-level information. You can charge this battery at any time, regardless of how much power is remaining. It works for:
CCD-TRV107, CCDTRV107, TRV107
CCD-TRV108, CCDTRV108, TRV108
CCD-TRV118, CCDTRV118, TRV118
CCD-TRV128, CCDTRV128, TRV128
CCD-TRV138, CCDTRV138, TRV138
CCD-TRV150, CCDTRV150, TRV150
CCD-TRV250, CCDTRV250, TRV250
CCD-TRV270, CCDTRV270, TRV270
CCD-TRV285, CCDTRV285, TRV285
CCD-TRV308, CCDTRV308, TRV308
CCD-TRV318, CCDTRV318, TRV318
CCD-TRV328, CCDTRV328, TRV328
CCD-TRV338, CCDTRV338, TRV338
CCD-TRV350, CCDTRV350, TRV350
CCD-TRV608, CCDTRV608, TRV608
DCR-DVD100, DCRDVD100, DVD100
DCR-DVD101, DCRDVD101, DVD101
DCR-DVD200, DCRDVD200, DVD200
DCR-DVD201, DCRDVD201, DVD201
DCR-DVD300, DCRDVD300, DVD300
DCR-DVD301, DCRDVD301, DVD301
DCR-PC100, DCRPC100, PC100
DCR-PC101, DCRPC101, PC101
DCR-PC105, DCRPC105, PC105
DCR-PC110, DCRPC110, PC110
DCR-PC115, DCRPC115, PC115
DCR-PC120BT, DCRPC120BT, PC120BT
DCR-PC330, DCRPC330, PC330
DCR-PC9, DCRPC9, PC9
DCR-TRV10, DCRTRV10, TRV10
DCR-TRV11, DCRTRV11, TRV11
DCR-TRV140, DCRTRV140, TRV140
DCR-TRV147, DCRTRV147, TRV147
DCR-TRV147E, DCRTRV147E, TRV147E
DCR-TRV17, DCRTRV17, RV17
DCR-TRV18, DCRTRV18, TRV18
DCR-TRV19, DCRTRV19, TRV19
DCR-TRV20, DCRTRV20, TRV20
DCR-TRV22, DCRTRV22, TRV22
DCR-TRV230, DCRTRV230, TRV230
DCR-TRV240, DCRTRV240, TRV240
DCR-TRV25, DCRTRV25, TRV25
DCR-TRV250, DCRTRV250, TRV250
DCR-TRV260, DCRTRV260, TRV260
DCR-TRV27, DCRTRV27, TRV27
DCR-TRV280, DCRTRV280, TRV280
DCR-TRV30, DCRTRV30, TRV30
DCR-TRV325, DCRTRV325, TRV325
DCR-TRV33, DCRTRV33, TRV33
DCR-TRV330, DCRTRV330, TRV330
DCR-TRV340, DCRTRV340, TRV340
DCR-TRV350, DCRTRV350, TRV350
DCR-TRV360, DCRTRV360, TRV360
DCR-TRV38, DCRTRV38, TRV38
DCR-TRV380, DCRTRV380, TRV380
DCR-TRV39, DCRTRV39, TRV39
DCR-TRV460, DCRTRV460, TRV460
DCR-TRV480, DCRTRV480, TRV480
DCR-TRV50, DCRTRV50, TRV50
DCR-TRV530, DCRTRV530, TRV530
DCR-TRV6, DCRTRV6, TRV6
DCR-TRV70, DCRTRV70, TRV70
DCR-TRV730, DCRTRV730, TRV730
DCR-TRV740, DCRTRV740, TRV740
DCR-TRV8, DCRTRV8, TRV8
DCR-TRV80, DCRTRV80, TRV80
DCR-TRV830, DCRTRV830, TRV830
DCR-TRV840, DCRTRV840, TRV840
DCR-TRV890, DCRTRV890, TRV890
DCR-TRV950, DCRTRV950, TRV950
DSR-PDX10, DSRPDX10, PDX10
HDR-HC1, HDRHC1, HC1
HDR-SG1, HDRSG1, SG1
HDR-UX1, HDRUX1, UX1
HDV-A1U, HDVA1U, A1U
HVL-IRM, HVLIRM, IRM
HVL-ML20M, HVLML20M, ML20M
and more models.
Best replacement for the following OEM battery part numbers:
Sony NP-FM70, Sony NPFM70, Sony FM70, Sony NP-FM71, NPFM71, FM71, Sony NP-QM70, NPQM71, Sony NP-QM71, NPQM71, QM70, QM71, Sony NP-QM71D, NPQM71D, QM71D.
Features

100% Compatible with original manufacturer equipments and chargers

Premium Japanese Cell

Absolutely no memery effect so that you can charge battery at anytime

Low impedance battery design

12 months warranty
Specifications

Chemistry: Lithium-Ion

Output Volts: 7.2 / 7.4v

AmpHours: 3000 mAh

Color: Black

Dimensions: 38.2mm x 39.5mm x 55.6mm
---
Comments
Send us text message for immediate response.


(502) COLOR-LA
(502) 265-6752
$16.00

Sony Compatible BC-TRM InfoLithium M Series Battery Charger
High-quality "smart" battery charger set including both wall charger and car cigarette lighter adapt


$39.00

Sony Compatible NP-QM91D InfoLithium M Series Li-Ion Battery
Sony Compatible NP-QM91D InfoLithium M Series Li-Ion Rechargeable Camcorder Battery