RODE NTG-2 Condenser Shotgun Microphone
Directional super cardioid condenser shotgun, HPF, dual powered, Mic Clip, Zip Pouch and Wind Shield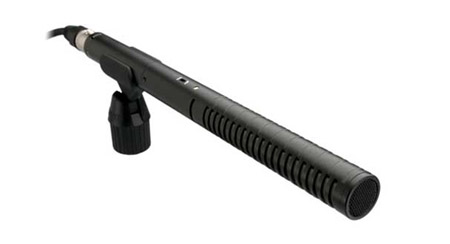 RODE NTG2 is a new, lightweight condenser shotgun microphone, designed for professional applications within the film, video, television and production industries.
The NTG2 provides a balanced low impedance output stage and operates either from an internal 1.5 V battery (AA) or 48 V phantom power. A wide bandwidth and controlled polar response coupled with low noise SMT electronics, makes the NTG2 the perfect choice for film, video engineering and voice-over work.
The NTG2 is extremely lightweight making it ideal for mounting directly to video cameras or on boom poles.The NTG2 comes complete with zip pouch, stand mount and windshield.The windscreen effectively suppresses wind noise when recording outdoors in moderate conditions.
RODE NTG2 FeaturesBroadcast sound qualityLow noise circuitry48V phantom power or 1.5V AA batteryTwo step high-pass fileter - flat or 80 HzRugged metal constructionLow weight - 161 grams (5 ounces)Low handling noiseSupplied with stand mount, zip pouch and windshield.

Broadcast sound quality

Low noise circuitry

Condenser transducer

P48 phantom power or 1.5V AA battery

Two step High-Pass Filter - Flat or 80Hz

Rugged metal construction

Low weight - 161g (5.17 oz.)

Low handling noise
Specifications

Power : P48 (48V) phantom supply or 1.5V AA battery

Acoustic Principle : Line gradient

Directional Pattern : Super Cardioid

Frequency range : 20Hz-20kHz, selectable HPF @ 80Hz/12dB/octave

Output impedance : 250O (phantom), 350O (battery)

Signal noise ratio : 76 dB SPL (A - weighted per IEC651)

Equivalent noise : 18 dB SPL (A - weighted per IEC651)

Maximum SPL : 131dB SPL (@ 1kHz, 1% THD into 1KO load)

Maximum output voltage : -15.4dBu (@ 1kHz, 1% THD into 1KO load)

Sensitivity : -36 dB re 1 Volt/Pascal (15 mV @ 94 dB SPL) +/- 2 dB @ 1kHz

Weight : 161gm

Dimensions : 278mmH x 22mmW x 22mmD
10 Years Warranty
We are a RODE U.S. authorized dealer. All RODE microphone products bought from L.A. Color Pros will be honored by RODE for a
10-year limited warranty
through
RoddMic.com
online registration.
---
Comments
Send us text message for immediate response.


(502) COLOR-LA
(502) 265-6752
$249.00

RODE Stereo VideoMic Condenser Microphone
X/Y stereo condenser microphone with shockmount, HPF and PAD. Includes Deadkitten Fur Windshield.


$229.00

RODE VideoMic PRO
Directional super cardioid condenser microphone with integrated shockmount, HPF and level control.


$249.00

Rode NTG-1 Condenser Shotgun Microphone
Directional super cardioid condenser shotgun mic. HPF, Zip Pouch, Mic Clip and Wind Shield


$249.00

RODE PinMic Miniature Omnidirectional Microphone (Long Pin Version)
Unique lapel style pin-through microphone that attaches to clothing and fabric almost anywhere.


$49.00

RODE SM3 Shock Mount For Rode NTG1 NTG2 NTG5 VideoMic
The SM3 is a suspension shock mount with Hot-Shoe adaptor for mounting the microphones on video came