Panasonic AY-DVM63PQ Mini DV Tapes 5-Pack
Professional Quality 63 Minutes, 5-Pack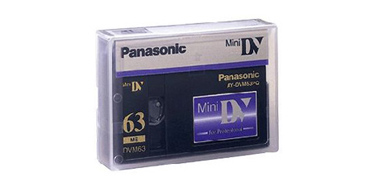 Panasonic Professional quality mini-DV tapes.

These tapes are suitable for all MiniDV camcorders from Sony, Panasonic, Canon, JVC, Sharp and others.

Panasonic original Metal Evaporation technology and tape formation technology assure ideal characteristics of digital recording.
---
Comments
Send us text message for immediate response.


(502) COLOR-LA
(502) 265-6752
$21.00

BP-2L24H Canon Compatible High Capacity Battery
Generic Brand - Rated 7.4v 2400mAh Output


$16.00

CB-2L Canon Compatible Charger for BP-2L Battery
for BP-2L Series Li-ion Rechargeable Battery


$15.00

HDVM-E63PR Canon DigitalMaster 63 Minute HDV Tape
Highest quality 63 minute recording media for HD camcorder recording


$30.00

Panasonic AY-DVM63AMQ Advance Master Tape 5-Pack
Advance Master Quality Tapes, 63 Minutes, For DV and HDV Recording, 5-pack


$9.00

Panasonic DVM-CLA Mini-DV Head Cleaner
Maintain DV or HDV recording head in optimal recording performance.