BP-U65N Sony Compatible Li-Ion Battery for Sony EX, F3, PMW100/200
Sony Compatible BP-U65N Li-Ion battery by Comer to power any Sony EX, F3, PMW100/200 Camcorders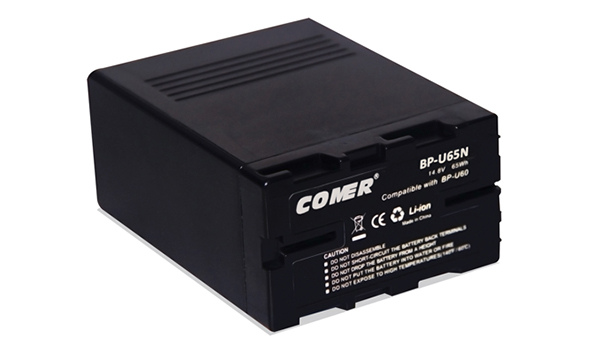 Features

Built-in 4-Level LED power indicator

Built-in standard power tap connector power camera light directly.

5V 1A USB 2.0 output for smart mobile phones and Apple products charging.

Built-in battery management system for multiple protect functions of over heat, over current, over voltage, short circuit etc.

Compatible to Sony PMW-EX1R, PMW-EX3, PMW-F3, PMW-100, PMW-200 cameras.
Specifications

Capacity : 4.4Ah 65Wh

Voltage : 14.8V

Typical Run-time : 229 minutes @ 17Wh

Net weight: 380g

Dimension : 93(L) x 70(W) x 41.6(T) mm
---
Comments
Send us text message for immediate response.


(502) COLOR-LA
(502) 265-6752
$169.00

Sony Compatible BP-U65 Battery for Sony EX1/EX3
Flexible alternative to the expensive Sony BP-U30 battery.


$219.00

Sony Compatible BP-U95 Battery for Sony EX1/EX3
Flexible alternative to the expensive Sony BP-U30 battery.


$119.00

Comer BC-C2 Portable D-Tap Charger
BC-C2 Portable Charger Designed for Sony Li-Ion Battery.


$79.00

Comer BG-U1 D-Tap Charger for BP-U65/BP-U95
Portable charger for Sony compatible BP-U65/BP-U95 batteries