LP-E12 Canon Compatible Li-Ion Battery for EOS M/Rebel SL1/100D Cameras
Designed to work with Canon EOS M and Rebel SL1 / 100D cameras rated at 1150mAh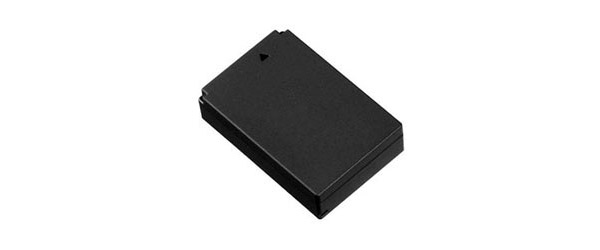 Canon compatible LP-E12 battery is designed to work with Canon EOS M and Rebel SL1 / 100D cameras. LP-E12 is tested for high performance and safety and rated at 1150mAh. LP-E12 battery can be charged with either the original Canon LC-E12 battery charger or our
Canon compatible LC-E12 charger
.
This LP-E12 battery works with the following Canon camera models:

Canon EOS M / EOS-M, Canon M

Canon EOS Rebel SL1, Canon Rebel SL1, Canon SL1

Canon EOS 100D, Canon 100D
Best replacement for the following OEM battery part numbers
Canon LP-E12, Canon LPE12, 6760B002.
Features

100% Compatible with original manufacturer equipment and chargers

Premium Li-Ion Cell

Absolutely no memory effect so that you can charge the battery at anytime

Low impedance battery design

12 months warranty
Specifications

Chemistry: Lithium-Ion

Output Volts: 7.2v

AmpHours: 1150 mAh

Type: Generic

Color: Beige or Grey
---
Comments
Send us text message for immediate response.


(502) COLOR-LA
(502) 265-6752
$19.00

LP-E6 Fully Decoded Battery for Canon 5D 6D 7D 60D 70D
Fully Decoded LP-E6 Li-Ion Rechargeable Battery for Canon EOS 5D, 6D, 7D, 70D and 60D


$16.00

LC-E6 Canon Compatible Charger for LP-E6 Battery
Canon LC-E6 CBC-E6 Equivalent Charger for LP-E8 Digital Camera Battery


$38.00

BP-970G Canon Compatible High Capacity Battery
for XH-A1, GL2, Canon VL-10 Light


$14.00

LP-E8 1400mAh High Capacity Canon Compatible Battery
1400mAh High Capacity LP-E8 Compatible Li-Ion Battery for Canon EOS 550D, 600D, T2i/T3i/T4i/T5i, X4


$16.00

LC-E8 Canon Compatible Charger for LP-E8 Battery
Canon LC-E8 CBC-E8 Equivalent Charger for LP-E6 Digital Camera Battery


$16.00

Canon Compatible LC-E12 Charger for LP-E12 Battery
Canon Compatible LC-E12 Smart Charger with wall plug and auto cigarette lighter adapter.