Accessory Shoe Adapter with 1/4-20 Stud Connector
Designed for use with an auxiliary flash or accessory. The locking rings affixes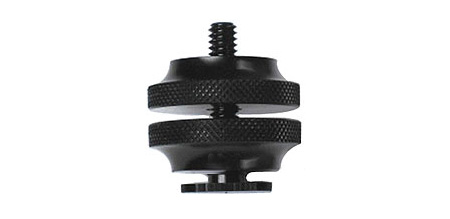 This Male Accessory Shoe Adapter has a 1/4-20 threaded stud on the bottom and "cold" male flash shoe on the top, and is designed for use with an auxiliary flash or accessory. The locking ring affixes this shoe to the device you screw it in to. It is ideally suited for use with any tripod or light stand with a 1/4-20 threaded socket.



---
Comments
Send us text message for immediate response.


(502) COLOR-LA
(502) 265-6752
$16.00

Umbrella Adapter (Light Stand) with Accessory Shoe
Umbrella Mount with Standard Accessory Shoe


$16.00

Accessory Shoe Tripod Mount Adapter
Tripod mount for all camera accessories


$10.00

Accessory Shoe Desktop Stand
Desktop stand for all camera accessories


$33.00

Accessory Shoe Extension Bar
For fitting of multiple shoe accessories to a single camcorder shoe.


$12.00

Bolt Connection Accessory Adapter
Convert any standard adapter to bolt screw mount


$33.00

Light and Sound Video Bracket
Standard accessory shoe size bracket for video lights and microphone.