VW-VBG6 Panasonic Compatible Li-Ion Battery
High capacity Panasonic compatible VW-VBG6 replacement Li-Ion rechargeable battery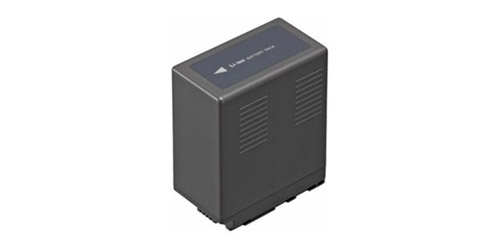 Li-ion battery made with info-chip rated at high capacity of 5500mAh. With this battery, remaining battery level will be displayed on camcorder LCD screen. Can be charged by Panasonic original charger or our
compatible Panasonic DE-A51BA Equivalent Charger
.
Best replacement for the following OEM battery part numbers:
VW-VBG6, VW-VBG6K, VW-VBG6E, VW-VBG6PP, VWVBG6, VWVBG6K, VWVBG6E, VWVBG6PP.
Features

Shows remaining time on camcorder LCD

100% compatile with Panasonic original charger

Premium Japanese Cell

Absolutely no memory effect so that you can charge battery at anytime

Low impedance battery design

LED battery meter that displays remaining power level

12 months warranty
---
Comments
Send us text message for immediate response.


(502) COLOR-LA
(502) 265-6752
$129.00

Comer CM-LBPP900 LED Light (Panasonic Battery)
900 lux High Power light using Panasonic CGA/CGP Battery


$48.00

VW-VBG6 Panasonic Compatible Li-Ion Battery
High capacity Panasonic compatible VW-VBG6 replacement Li-Ion rechargeable battery


$29.00

VW-VBG260 Panasonic Compatible & Decoded Battery
Panasonic Compatible VW-VBG260 Intelligent Li-Ion Rechargeable Battery


$22.00

VW-VBG130 Panasonic Compatible & Decoded Battery
Panasonic Compatible VW-VBG130 Intelligent Li-Ion Rechargeable Battery


$16.00

Panasonic Compatible DE-A51BA Battery Charger
New Panasonic DE-A51BA Equivalent Charger for VW-VBG070 VW-VBG130 VW-VBG260


$14.00

Panasonic Compatible DMW-BLB13 Decoded Li-Ion Batt
Panasonic DMW-BLB13 Li-Ion Battery for DMC-GF1 DMC-GH1 DMC-G1 DMC-G2 DMC-G10