Panasonic Compatible DE-A49 Battery Charger
Panasonic Compatible DE-A49 Charger for DMW-BLB13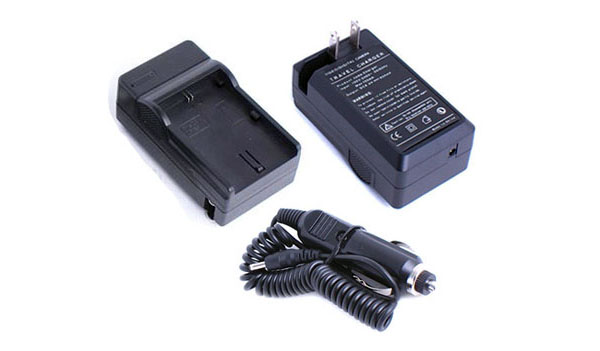 New high-quality "smart" battery charger set including both wall charger and auto cigarette lighter adapter (car charger). World-traveler input voltage 100v-240v. Quick charging for DMW-BLB13 or DMW-BLB13PP Rechargeable digital camera / camcorder Battery. Smart circuit design and LED indicators with automatic current control to protect battry from overcharging, short circuit, and electronic shock. It replaces Panasonic DE-A49, DE-A49A, DE-A49B and DE-A49C battery chargers.Works wonderfully for Panasonic:
DMC-G1, DMCG1
DMC-G2, DMCG2
DMC-G10, DMCG10
DMC-GF1, DMCGF1
DMC-GH1, DMCGH1
DMC-G1K, DMCG1K, G1K
DMC-G1R, DMCG1R, G1R
DMC-G1A, DMCG1A, G1A
DMC-G2K, DMCG2K, G2K
DMC-G2R, DMCG2R, G2R
DMC-G2A, DMCG2A, G2A
DMC-G10K, DMCG10K, G10K
DMC-GF1C-K, DMCGF1CK, GF1CK
DMC-GF1K-K, DMCGF1KK, GF1KK
DMC-GH1K, DMCGH1K, GH1K
DMC-GH1W, DMCGH1W, GH1W
DMC-G1KEB-A, G1KEBA
DMC-G1KEB-K, G1KEBK
DMC-G1KEB-R, G1KEBR
DMC-G1KEG-A, G1KEGA
DMC-G1KEG-K, G1KEGK
DMC-G1KEG-R, G1KEGR
DMC-G1WEG-A, G1WEGA
DMC-G1WEG-K, G1WEGK
DMC-G1WEG-R, G1WEGR
and more models.
The charger is compatible with the following OEM battery part numbers:
DMW-BLB13, DMW-BLB13PP, DMW-BLB13E, DMWBLB13, DMWBLB13PP, DMWBLB13E.
Features

100% compatible with original manufacturer equipments and batteries

Microprocessor control charge

Overcharge protection

LED indicators for "Power" and "Charging Full"

Univeral voltage input: 100v-240v

Including extra car adapter

CE certified and UL listed

24 months warranty

Charger AC Input: 100v-240v

Charger DC Input: 12v-24v
---
Comments
Send us text message for immediate response.


(502) COLOR-LA
(502) 265-6752
$129.00

Comer CM-LBPP900 LED Light (Panasonic Battery)
900 lux High Power light using Panasonic CGA/CGP Battery


$48.00

VW-VBG6 Panasonic Compatible Li-Ion Battery
High capacity Panasonic compatible VW-VBG6 replacement Li-Ion rechargeable battery


$29.00

VW-VBG260 Panasonic Compatible & Decoded Battery
Panasonic Compatible VW-VBG260 Intelligent Li-Ion Rechargeable Battery


$22.00

VW-VBG130 Panasonic Compatible & Decoded Battery
Panasonic Compatible VW-VBG130 Intelligent Li-Ion Rechargeable Battery


$5.00

DMW-BLB13 Panasonic Compatible Li-ion Battery
Panasonic DMW-BLB13 Li-Ion Battery for DMC-GF1 DMC-GH1 DMC-G1


$14.00

Panasonic Compatible DMW-BLB13 Decoded Li-Ion Batt
Panasonic DMW-BLB13 Li-Ion Battery for DMC-GF1 DMC-GH1 DMC-G1 DMC-G2 DMC-G10