Comer CM-LED5500K Broadcast and Studio LED Light
Comer Brand New High Power Studio and Broadcast LED Lights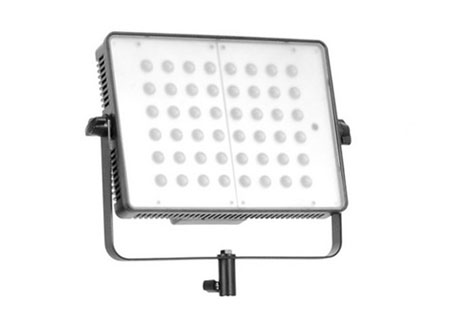 Brought to you by the trusted professional Comer LED lighting, L.A. Color Pros proudly introduces the new Comer CM-LED5500K broadcast and studio LED Light. With it's high power output at 5500 lux and high portability, it is suitable for on-site shooting and field studio setup. The
VARIABLE color temperate
range from 3200K to 5600K makes CM-LED5500K very flexible to light scenes both indoor and outdoor.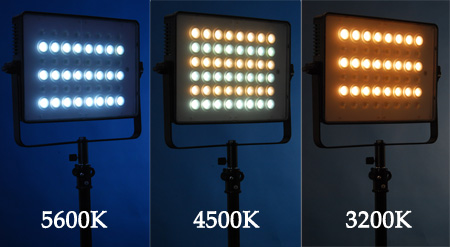 Features

Made with professional brand high efficiency LEDs

Touch button control panels at the back of the light.

Infra-red wireless remote control to adjust power on/off, brightness and variable color temperature

Ultra-efficient: draws only 75W maximum power with luminous efficiency equivalent to 500W tungsten light.

Elegant smart rectangular silhouette casing. Built-in heat sink makes CM-LED5500K cool-to-the-touch.

High illuminance with 5500 lux at 1 meter.

Wide dispersion spread at 60 degree spot light

Homogenous light luminance output

Runs on battery or AC adapter

Accepts Sony style V-mount Li-ion battery such as
BP-C190S battery
.
The battery interface can also be replaced to accept Anton Bauer battery connection. Please contact us if you intent to use the Comer 5500 light with Anton Bauer battery. It takes 5 business days for this request.

50,000+ hours LED life

Includes powerful magnet snap-on white diffuser for wider spread illumination

Briefcase style carrying case included with compartment to hold the CM-LED5500K light, filter, remote control, and one battery.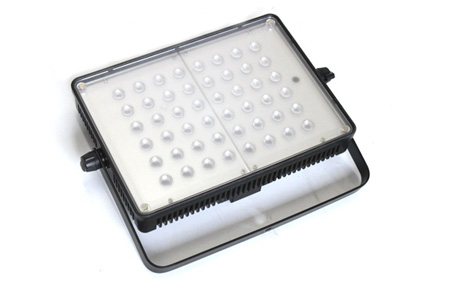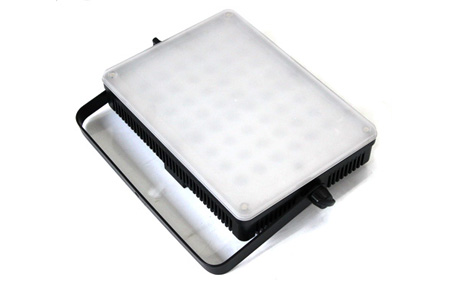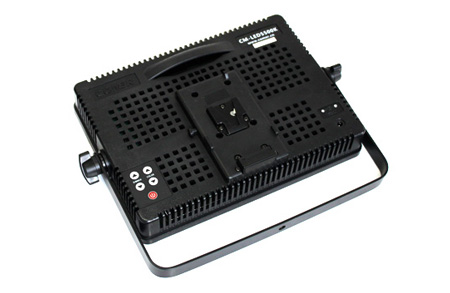 Specifications

Color temperature: from 3200K to 5600K variable

Maximum illuminance:
5500 Lux at 4500K 1 meter
5200 Lux at 5600K 1 meter
3800 Lux at 3200K 1 meter

Beam angle: 60 degree

Maximum power consumption: 75W

Full dimmer support from 10% to 100%

CRI (Ra) > 85

Operating temperature: -20 to 50C

Storage temperature: -20C to 60C

Weight: 2.6kg

Dimension: 300 x 220 x 50mm

Housing material: polycarbonate (PC)

DC input voltage: DC 12V to 24V

AC input: AC 100 to 240V 50-60hz

AC output: DC 20V 6A

Maximum remote distance: 5 meter

One year warranty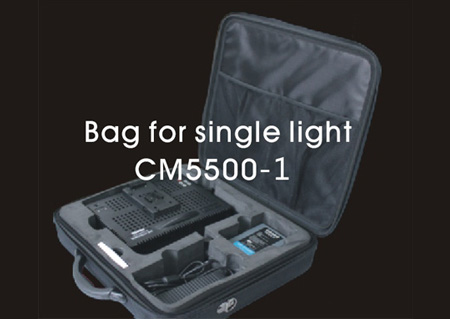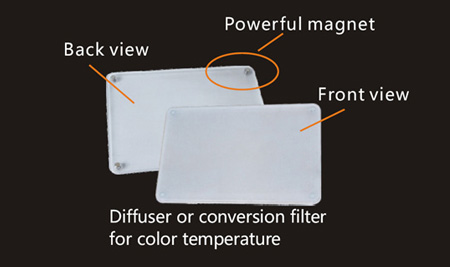 Illumination Chart

1m - 5500 lux

2m - 1375 lux

3m - 610 lux

4m - 340 lux
Battery and Charger
Comer CM-LED5500K accepts Sony V-mount battery and any travel charger with the D-connector.

Comer BP-C190S battery
. Run time 180 minutes.

Comer BP-C130S battery
. Run time 100 minutes.

Sony Compatible BG-U1 Charger

Sony V-Mount/Gold Mount Compatible Comer Portable Charger
Higher output for faster charging time.
Battery and charger are not included in the CM-LED5500K package
.
Package Content

CM-LED5500K Studio LED Light with mount to standard light (Light stand not included)

White Diffuser

Wireless remote control

Briefcase style carrying case

Shoulder strap

AC Adapter

Battery and Charger are NOT INCLUDED
For more photos, please visit our blog page,

NEW Comer CM-LED5500K Broadcasting and Studio LED Panel Light

Comer CM-LED5500K Promo Video
---
Comments
Send us text message for immediate response.


(502) COLOR-LA
(502) 265-6752
$199.00

Comer CM-LBPS1800 On-Camera LED Light (Sony Battery)
1800 lux High Power 10-LED light


$119.00

Comer BC-C2 Portable D-Tap Charger
BC-C2 Portable Charger Designed for Sony Li-Ion Battery.


$599.00

Comer CM-LED5500K/32 Broadcast and Studio LED Light 3200K
Comer Brand New High Power Studio and Broadcast LED Lights 5500 Lux Output at 3200K


$599.00

Comer CM-LED5500K/56 Broadcast and Studio LED Light 5600K
Comer Brand New High Power Studio and Broadcast LED Lights 5500 Lux Output at 5600K


$209.00

Sony Compatible V-Mount BP-C130S Li-ion Battery
High Capacity Sony Compatible V-Mount Li-ion Battery


$329.00

Sony Compatible V-Mount BP-C190S Li-ion Battery
High Capacity Sony Compatible V-Mount Li-ion Battery