RODE SM3 Shock Mount For Rode NTG1 NTG2 NTG5 VideoMic
The SM3 is a suspension shock mount with Hot-Shoe adaptor for mounting the microphones on video came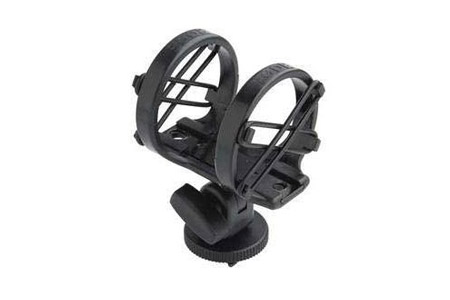 The SM3 is a suspension shock mount with Hot-Shoe adaptor for mounting the RDE NTG1, NTG2, NTG3, NT3, NT4 & NT5 microphones on video cameras. This allows you to connect your RDE Microphone to a number of video cameras on the market while giving your camera maximum isolation from any handling vibrations.

Compatible microphones : NT3, NT4, NT5, NT55, NTG1, NTG2.
---
Comments
Send us text message for immediate response.


(502) COLOR-LA
(502) 265-6752
$249.00

RODE Stereo VideoMic Condenser Microphone
X/Y stereo condenser microphone with shockmount, HPF and PAD. Includes Deadkitten Fur Windshield.


$229.00

RODE VideoMic PRO
Directional super cardioid condenser microphone with integrated shockmount, HPF and level control.


$249.00

Rode NTG-1 Condenser Shotgun Microphone
Directional super cardioid condenser shotgun mic. HPF, Zip Pouch, Mic Clip and Wind Shield


$269.00

RODE NTG-2 Condenser Shotgun Microphone
Directional super cardioid condenser shotgun, HPF, dual powered, Mic Clip, Zip Pouch and Wind Shield


$49.00

RODE SM3 Shock Mount For Rode NTG1 NTG2 NTG5 VideoMic
The SM3 is a suspension shock mount with Hot-Shoe adaptor for mounting the microphones on video came