Z-Flash 96-LED for DSLR Video and Flash Light
Z-Flash is a super bright (800 lux) LED with 96 LEDs. With it's Flash Sync function, it can be used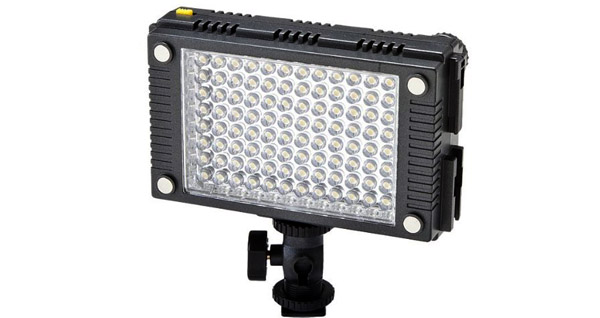 The Z-Flash is ideal for both continuous and flash lighting, enabling the user to trigger the light as a flash. The light can also be connected with a sync cable and used as a standard flash.
Features

Super Bright 800 Lux with 96 Super Bright, Pure 5600K Color Power LED bulbs

Flash Compatibility - Z-Flash has the option to be used as a camera flash, either via manual button-push or sync cable.

Built-In DV Battery Support using a single Sony L Series DV Battery.

Magnetic Filter Plates that simply snap onto the front of the LED light. Included is both a 3200K daylight to tungsten warming filter and a white diffusion filter.

Heat-Free LED operates drawing 9 watts of power only.

Measuring less than 6" at its longest side this compact light works great with any DV or DSLR camera.

16:9 Wide Form Factor allows the Z-Flash to produce a wider, softer light spread without creating any hot spots.

Flicker Free light with a rear facing dimmer knob adjusted from 10% - 100%.

Equipped with a swivel shoe mount or mounting on any DV or DSLR camera.

Expandable Link System to attach multiple units together using the included link brackets.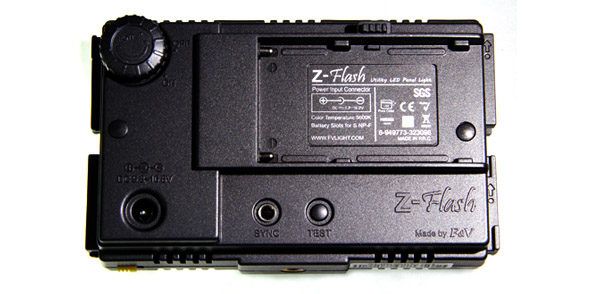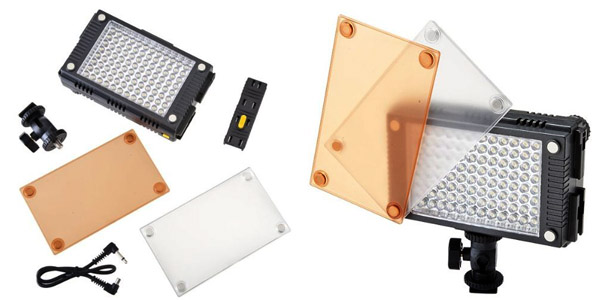 Difference between Z-Flash and HDV-Z96 Video Light
Z-Flash added 2 more features between
HDV-Z96
& Z-Flash:

Z-Flash has Speedlight Flash function.

Z-Flash can not be powered by AA Batteries, HDV-Z96 can be powered by AA batteries.

Z-Flash Speedlight Flash function compatible with most cameras such as CANON, NIKON (Except Sony).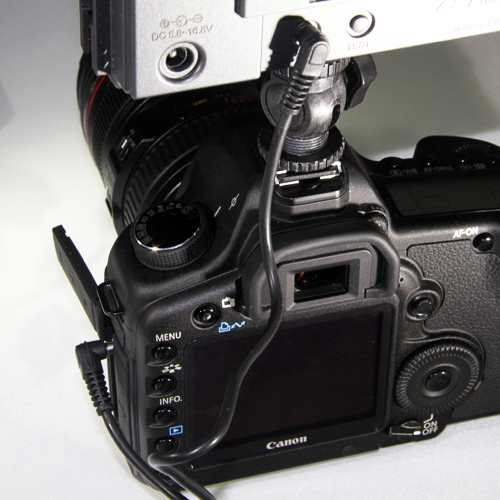 Specifications

Voltage : 5.8-16.8v

Power : 7w

Average livespan(hours) : 30000

Cooling mode : Natural ventilation

Center luminous Flux : 800/3200

Color temperature(K) : 5600K

Color rending index >=85%

Beam angle : 65°

Dimension : 128 x 80 x 48 mm

Net Weight(g) : 193

Diffuse installation : Magnetic Pick-up

Color temperature change : 5600k/3200k
<2>Content

1 x Z-Flash Video Light

1 x Camera Flash Sync cable

1 x White filter (soft diffuser 5200K)

1 x Orange filter (3200k)

1 x Hot shoe adapter (Ball Pan/Tilt Head)

1 x Combined socket clip

1 x User manu
---
Comments
Send us text message for immediate response.


(502) COLOR-LA
(502) 265-6752
$129.00

Comer CM-LBPS900 LED Light (Sony Battery)
900 lux LED light using Sony L-Series NP-Fxxx Battery


$18.00

NP-F570 / NP-F550 Sony Compatible Li-Ion Battery
InfoLithium L Series Li-Ion Rechargeable Camcorder Battery


$99.00

HDV-Z96 LED Photo/Video Light Kit
HDV-Z96 LED 800 lux Video Light Kit for Camcorders a Cameras


$28.00

NP-F770 / NP-F750 Sony Compatible Li-Ion Battery
InfoLithium L Series Li-Ion Rechargeable Camcorder Battery


$16.00

BC-V500 / BC-V615 Sony Compatible Battery Charger
InfoLithium F or L Series Charger. Charger for NP-F970 Battery