NP-F970 Sony Compatible Rechargeable Battery
High Capacity InfoLithium L-Series Li-Ion Battery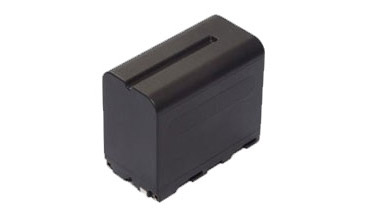 Sony Compatible NP-F950 NP-F960 NP-F970 InfoLithium L Series Li-Ion Rechargeable Camcorder Battery. 6600 mAh high amp delivers longer operation time.

Output Volts: 7.2 / 7.4v

AmpHours: 6600 mAh

Color: Black/Dark grey

Dimensions: 38.4mm x 60.0mm x 70.8mm
New 100% OEM Compatible Li-Ion Rechargeable. Compatible to

Sony CCD-SC55, CCD-SC65, CCD-TR3000, CCD-TR3300, CCD-TR516, CCD-TR555, CCD-TR67, CCDTR67, CCD-TR716, CCD-TR76, CCD-TR818, CCD-TR87, CCD-TR910, CCDTR910, CCD-TR917, CCD-TR930, CCD-TR940, CCD-TRV101, CCD-TRV11, CCDTRV11, CCD-TRV15, CCD-TRV215, CCD-TRV25, CCD-TRV30,
CCDTRV30, CCD-TRV36, CCD-TRV37, CCD-TRV41, CCDTRV41, CCD-TRV43, CCD-TRV46, CCD-TRV51, CCD-TRV57, CCD-TRV58, CCD-TRV615, CCD-TRV62,
CCDTRV62, CCD-TRV65, CCD-TRV66, CCD-TRV67, CCD-TRV68, CCD-TRV715, CCD-TRV72, CCD-TRV75, CCD-TRV81, CCD-TRV815, CCD-TRV82, CCD-TRV85,
CCD-TRV87, CCD-TRV88, CCD-TRV90, CCD-TRV91, CCD-TRV93, CCD-TRV95, CCD-TRV98, CCD-TRV99

DCR-PC10, DCR-PC7, DCR-SC100, DCR-TR7000, DCR-TRV110, DCR-TRV120, DCR-TRV130, DCR-TRV210, DCR-TRV310, DCR-TRV315, DCR-TRV320, DCR-TRV5, DCR-TRV510, DCR-TRV520, DCR-TRV525, DCR-TRV7, DCR-TRV720, DCR-TRV820, DCR-TRV9, DCR-TRV900

DCR-VX1000, DCR-VX2000, DCR-VX2100, DCR-VX700

HDR-FX1, HVR-Z1U, and more models.
Best replacement for the following OEM battery part numbers: Sony NP-F950, NPF950, Sony NP-F960, NPF960, Sony NP-F970, NPF970.
Features

100% Compatible with original manufacturer equipments and chargers

Premium Japanese Cell

Absolutely no memery effect so that you can charge battery at anytime

Low impedance battery design

12 months warranty
This light can be used with the
Comer CM-LBPS900
and
Comer CM-LBPS1800
LED lights.
---
Comments
Send us text message for immediate response.


(502) COLOR-LA
(502) 265-6752
$199.00

Comer CM-LBPS1800 On-Camera LED Light (Sony Battery)
1800 lux High Power 10-LED light


$129.00

Comer CM-LBPS900 LED Light (Sony Battery)
900 lux LED light using Sony L-Series NP-Fxxx Battery


$18.00

NP-F570 / NP-F550 Sony Compatible Li-Ion Battery
InfoLithium L Series Li-Ion Rechargeable Camcorder Battery


$99.00

HDV-Z96 LED Photo/Video Light Kit
HDV-Z96 LED 800 lux Video Light Kit for Camcorders a Cameras


$28.00

NP-F770 / NP-F750 Sony Compatible Li-Ion Battery
InfoLithium L Series Li-Ion Rechargeable Camcorder Battery


$16.00

BC-V500 / BC-V615 Sony Compatible Battery Charger
InfoLithium F or L Series Charger. Charger for NP-F970 Battery