Trayless Removable Harddrive System
Posted on 7/6/2007 1:51:00 PM
Harddrives are inexpensive these days. Typical external harddrives requires AC Adapter with slow USB connection. This is a permanent way to expand your system storage without lots of different enclosures.
I have been using these mobile drive rack for a while. It gives your system virtually unlimited storage capability. There're lots of external enclosure or removable drive rack out there. This one is very cheap ($22) and you don't need to buy trays for each additional harddrive.



KINGWIN KF-1000-BK 3.5" Internal hot swap rack


StarTech HSB100SATBK 5.25" Tray-Less SATA Hot-Swap Bay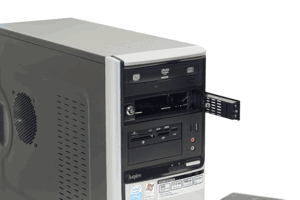 It connects to your computer's internal SATA port. There isn't another layer of data conversion like most other enclosure (SATA->USB or SATA->Firewire). You just slide in and out a harddrive like this because SATA is hot swappable.

The only inconvinent thing is since the computer system sees it as an internal harddrive, the OS holds write behind cache so it's better not to just unplug the drive. You won't be able to use the "Safely Removal Hardware" icon in the tray area to stop the harddrive also. You need to use the Device Manager to uninstall the harddrive before unplugging it.

If your computer equpied with eSATA port, you can consider getting the BlacX dock that includes both eSATA and USB connections.

Thermaltake BlacX eSATA USB Docking Station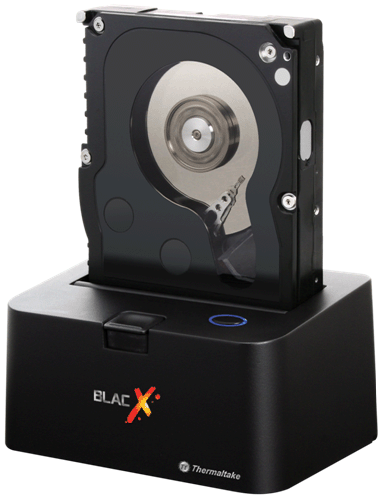 Now as time flies, you will have lots of harddrives around. I bought a "envelop sorter" stationery at Office Depot to hold them.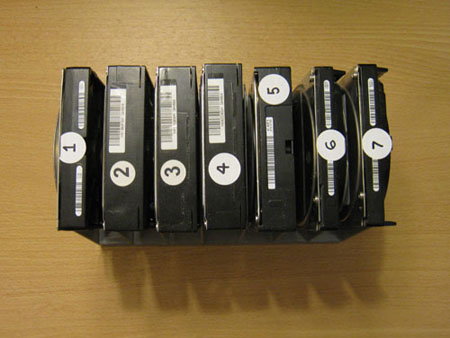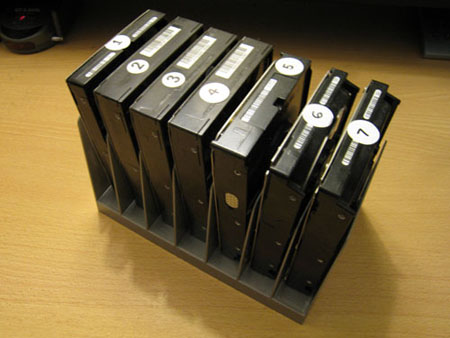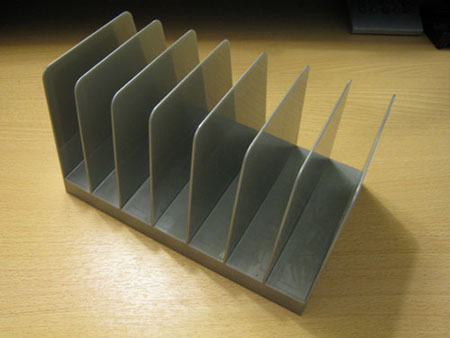 The advantages of using this trayless removable system are,



They are relatively cheap. Less than $30. I bought one for my desktop, one for my media center PC. For my laptop, I mount one to an USB external enclosure too.


SATA harddrives are cheap these days. You can plug in any SATA harddrives in. Instantly, it shows up as another hdd in the system.


SATA hdd are hotswappable. Which mean you can plug in and unplug it while you computer is still running. Your harddrive becomes like a giant floppy or DVD-RW disc.


Unlike other removable tray system, this one doesn't require you buying additional tray to fit each hdd you want to use. It instantly becomes unlimited storage.


It's a SATA to SATA connection directly to your motherboard. You got the fastest speed (SATA-II 300) without another layer of data conversion. Unlike using USB or Firewire enclosure, it goes from SATA to USB/Firewire to SATA again


---
Comments
Return to blog home page Subscribe Mailing List
Comments on "ALL-I vs IPB"
"[b][/b] ..."
Posted by 3aplus63minee
on 4/19/2020
Read More

2017

2016
Dec 14
The Wedding Film Retreat
Nov 28
Playback Wedding Film with TakyBox on Amazon Fire
Sep 29
Special Discount for High Profile Wedding Cinema Workshop
Sep 9
TakyBox for the Spanish Audience
Aug 21
Photoshop, Bringing People Closer Together.
Aug 5
Flxing Flickering LED Issue
Jul 8
Falcon Media to Discontinue Blank BluRay Media Production
Jun 7
Mic'ing the Bride
May 26
A Windy Wedding Day
May 24
Trick out the Dual Channel Quick Charger with LCD Display
May 11
What Couples Should Be Looking for When Hiring a Wedding Videographer?

(1)

Apr 11
2-Day Cine School with Tom Antos
Apr 1
Summit for Event Filmmakers at San Clemente, CA
Mar 7
Data Recovery Presentation at WPPI 2016
Feb 29
Popular license music sites
Jan 28
Introducing TB Dongle
Jan 4
InFocus Video Conference 2016
Jan 1
Professional DVD and BluRay Production by Yourself

(4)

2015

2014

2013

2012

2011

2010

2009

2008

2007