LA Color Blog Site Launched
Posted on 2/14/2012 1:56:00 AM
LA Color Blog Dedicated to Our Brides and Grooms
LA Color is proud to announce the launch of LA Color Blog, a brand new blogging site dedicated to all our brides and grooms. Feel free to leave us any comments.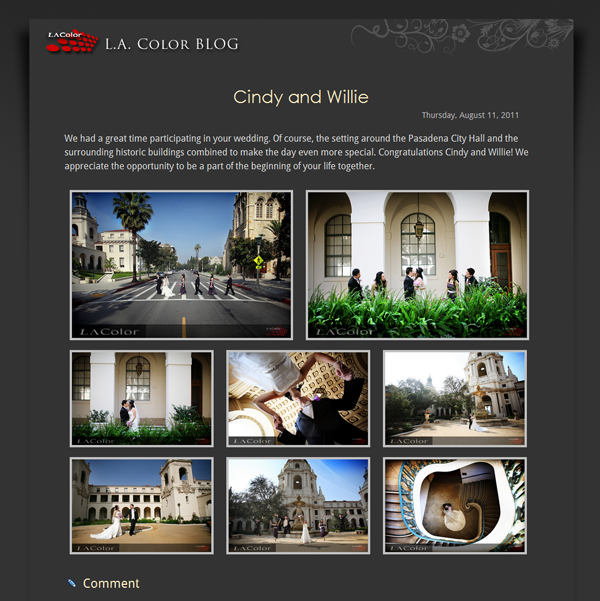 Come visit us at http://lacolorBlog.com.
---
Comments
Return to blog home page Subscribe Mailing List
Comments on "How to Repair DSLR .MOV on Corrupted SD Card"
"Thank you so much, you are an absolute lifesaver!..."
Posted by leon
on 5/25/2017
Read More

2017

2016
Dec 28
External Backup System with Harddrive Dock
Dec 18
ALL-I vs IPB
Dec 17
Cloud Storage vs Cloud Backup
Dec 14
The Wedding Film Retreat
Nov 28
Playback Wedding Film with TakyBox on Amazon Fire
Nov 24
Sole Proprietor, DBA, LLC, S-Corp...
Oct 12
Copyright Infringement Strike
Oct 11
What Couples Should Be Looking for When Hiring a Wedding Videographer?

(1)

Sep 29
Special Discount for High Profile Wedding Cinema Workshop
Sep 9
TakyBox for the Spanish Audience
Aug 24
Cables Required to Record Sound Feed from DJ
Aug 21
Photoshop, Bringing People Closer Together.
Aug 16
Color Tone Of Your Film
Aug 5
Flxing Flickering LED Issue
Jul 8
Falcon Media to Discontinue Blank BluRay Media Production
Jun 8
Backup and Editing Workflow
Jun 7
Mic'ing the Bride
May 26
A Windy Wedding Day
May 24
Trick out the Dual Channel Quick Charger with LCD Display
Apr 11
2-Day Cine School with Tom Antos
Apr 1
Summit for Event Filmmakers at San Clemente, CA
Mar 7
Data Recovery Presentation at WPPI 2016
Feb 29
Popular license music sites
Jan 28
Introducing TB Dongle
Jan 4
InFocus Video Conference 2016
Jan 1
Professional DVD and BluRay Production by Yourself

(4)

2015

2014

2013

2012

2011

2010

2009

2008

2007