Posted on 8/8/2017 6:51:00 AM
What is the difference between ALL-I and IPB frame rate options in Canon DSLR.

When selecting recording format in Canon DSLR, there are two options ALL-I and IPB associated with each frame rate. What are they? Let me try to explain the best I could.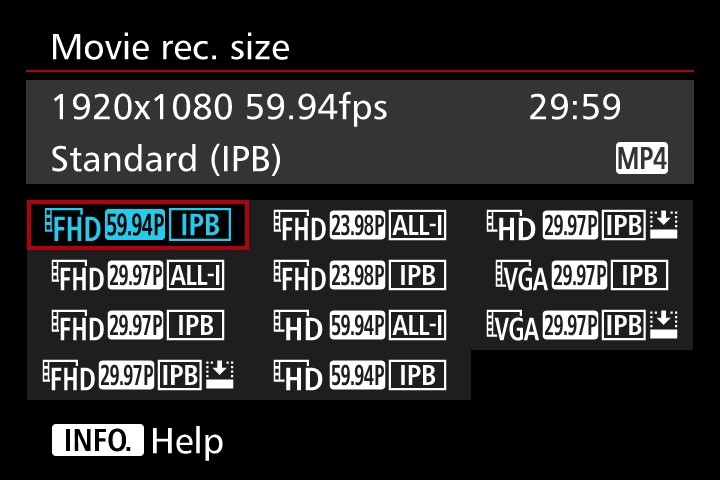 Modern video codec compression technology are more complicated than before. They are destructive compression, meaning, data removed cannot be restored 100%.

In the past, video is compressed (remove data) that is within each frame. They are called Intra-Frame (I-Frame) compression. Each frame is like a JPEG photo. File size will be bigger but they are very NLE friendly.

To compress file further more, they decided to put a series of frames into a one compression scheme. It is called "Group of Picture" GOP. With the GOP, some will be compressed by removing similarity of data from the current frame to a few frames back (B-Frame). It also reduce data by predicting how each pixel moves in the next few frames (P-Frame). This is the IPB compression.

It's like this, if you shoot in I-Frame, the GOP is like this


I I I I I I I I I I I I I I I I I I I I I




If you shoot IPB, it will be like this



I B B B B P P P B I B B B P P P I P P P B



The more B-Frame and P-Frame in the GOP can make the file size smaller.

So what's the impact,. if you load the video to timeline for edit, when you scrub the timeline, the computer will need to reconstruct the current frame by retrieving back a few frames from the current frame, and a few frames from after the current frame. It will cause a toll to the CPU. But now newer computer can handle them all very well.

I shoot IPB. Even tho memory and HDD is not an issue. But the high IO data rate will also have a toll to the overall computer process time. And visually, most people can't tell the difference.

To my understanding, if you need to do a lot of color processing, green screen etc, then shoot All-I . For weddings, I do IPB . its' enough.
---
Comments
Return to blog home page Subscribe Mailing List
Comments on "ALL-I vs IPB"
"[b][/b] ..."
Posted by 3aplus63minee
on 4/19/2020
Read More

2017

2016
Dec 14
The Wedding Film Retreat
Nov 28
Playback Wedding Film with TakyBox on Amazon Fire
Sep 29
Special Discount for High Profile Wedding Cinema Workshop
Sep 9
TakyBox for the Spanish Audience
Aug 21
Photoshop, Bringing People Closer Together.
Aug 5
Flxing Flickering LED Issue
Jul 8
Falcon Media to Discontinue Blank BluRay Media Production
Jun 7
Mic'ing the Bride
May 26
A Windy Wedding Day
May 24
Trick out the Dual Channel Quick Charger with LCD Display
May 11
What Couples Should Be Looking for When Hiring a Wedding Videographer?

(1)

Apr 11
2-Day Cine School with Tom Antos
Apr 1
Summit for Event Filmmakers at San Clemente, CA
Mar 7
Data Recovery Presentation at WPPI 2016
Feb 29
Popular license music sites
Jan 28
Introducing TB Dongle
Jan 4
InFocus Video Conference 2016
Jan 1
Professional DVD and BluRay Production by Yourself

(4)

2015

2014

2013

2012

2011

2010

2009

2008

2007