What Couples Should Be Looking for When Hiring a Wedding Videographer?
Posted on 5/11/2016 8:33:00 PM
In working with a wedding planner recently, she asked "what would you suggest couples look for when hiring a wedding videographer?"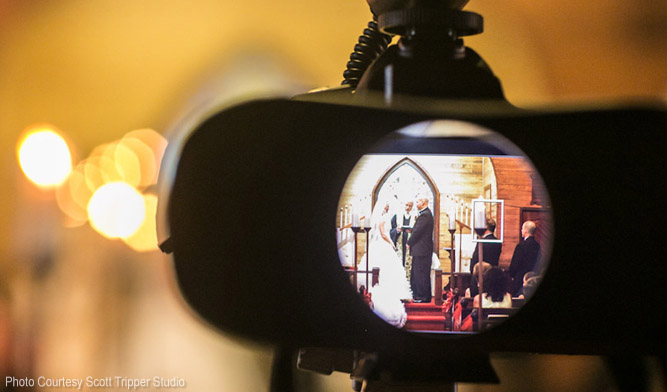 With the help of our experience plus contributions from a 8000+ members Wedding Videographers forum, here's a list that it is crucial in selecting a wedding videographer.


Service Offered

Video service and photo service by two separate team. Do not hire company that offer both video and photo service done by one team. They will miss crucial video or photo moment because that one team can only take photo or video at one moment.


Best to have video and photo service from the same company. But to make sure they are two separate teams.


Length of final product offered: full length video, short film, or 5 minutes highlights. Some companies offer highlights film only


What's involve in the post editing process? How long it takes for the final film to be delivered?


Business Entity

Is the videographer a "weekend videographer" or does it operate as a legitimate business.


Who will show up filming the wedding. Will they assign a subcontractor to film the wedding.


Portfolio & Personality

Check portfolio on storytelling technique, lighting, audio acquisition and attention to detail


Meet with videographer to see if there's a personality match. Do they have passion in what they produce.


Are they easy to work with (both to customers and other vendors)


For cultural weddings, it is best if the videographer knows and understands the ritual and language.


Past Experience

Videographer's Experience (years of service)


Feedback and reviews from previous customers (Yelp, WeddingWire)

Comments are welcome.
---
Comments
Return to blog home page Subscribe Mailing List
Comments on "ALL-I vs IPB"
"[b][/b] ..."
Posted by 3aplus63minee
on 4/19/2020
Read More

2017

2016
Dec 14
The Wedding Film Retreat
Nov 28
Playback Wedding Film with TakyBox on Amazon Fire
Sep 29
Special Discount for High Profile Wedding Cinema Workshop
Sep 9
TakyBox for the Spanish Audience
Aug 21
Photoshop, Bringing People Closer Together.
Aug 5
Flxing Flickering LED Issue
Jul 8
Falcon Media to Discontinue Blank BluRay Media Production
Jun 7
Mic'ing the Bride
May 26
A Windy Wedding Day
May 24
Trick out the Dual Channel Quick Charger with LCD Display
May 11
» What Couples Should Be Looking for When Hiring a Wedding Videographer?

(1)

Apr 11
2-Day Cine School with Tom Antos
Apr 1
Summit for Event Filmmakers at San Clemente, CA
Mar 7
Data Recovery Presentation at WPPI 2016
Feb 29
Popular license music sites
Jan 28
Introducing TB Dongle
Jan 4
InFocus Video Conference 2016
Jan 1
Professional DVD and BluRay Production by Yourself

(4)

2015

2014

2013

2012

2011

2010

2009

2008

2007